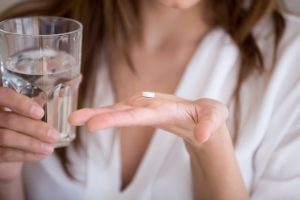 If your doctor has prescribed antibiotics for you to take before an upcoming dental procedure, you may have wondered why. Premedication, also called antibiotic prophylaxis, is the use of antibiotics to prevent infections that may result from dental treatments. It is true that typically antibiotics are prescribed once a bacterial infection is present, but studies show that this practice, called antibiotic prophylaxis, can help prevent infections altogether.
Why Premedication?
Bacteria that is naturally present can possibly enter the bloodstream after patients receive invasive treatments. While most people have adequate immunity to avoid this from becoming harmful, antibiotic prophylaxis is utilized to prevent bacteria from proliferating and travelling. Starting the antibiotics ahead of time permits the antibiotic to build up in the blood, to achieve the therapeutic level.
What Procedures Warrant Premedication?
Those who are slated to undergo a root canal, tooth implant, deep dental cleaning, tooth extraction or cosmetic dentistry procedures are prime candidates for antibiotic prophylaxis. Those who have less than healthy immune systems may require premedication for other treatments as well.
Who Is a Premedication Candidate?
In general, premedication is not advised for healthy individuals, as studies show that antibiotic resistance, intestinal issues and other adverse reactions pose more risk than this type of treatment benefits. In lieu of antibiotics, practicing consistent dental hygiene with brushing and flossing teeth is the recommended "medicine", due to the mixed data regarding the efficacy of infection prevention.
Patients with cancer, autoimmune diseases (diabetes, lupus, rheumatoid arthritis, etc.), heart disease, advanced age, and overall fragile immune systems are optimal candidates for premedication for dental services. The primary aim of antibiotic prophylaxis is to forestall infective endocarditis and other complications in those susceptible to infection.
Patients with the following cardiovascular issues are advised to proceed with antibiotic prophylaxis:
Prosthetic cardiac material including annuloplasty rings and chords, homografts, transcatheter-implanted prostheses, and valves.
Infective endocarditis history
Heart transplant
Congenital heart disease
Heart defect repair
As always, New Look Dental defers to the recommendation of the associated treating physician. Should you be receiving any sort of medical treatment, or have had recent surgical interventions (including cosmetic implants and organ implants), inform your dentist and other providers beforehand.
In the beginning of this decade premedication was customary for orthopedic joint replacement patients. Since January 2015, antibiotic prophylaxis has been discouraged by the ADA, as antibiotics were found not to effectively circumvent infections. However, those who have had surgery complications, or are undergoing chemotherapy and steroid treatment are advised to continue, as these groups are high risk of infection in their orthopedic implants.
Dr. Kirakosian of New Look Dental routinely visits the ADA website to stay up to date on this and all other dental issues. Armed with the latest facts, she conducts a thorough consultation and requests clearance from patient's orthopedic surgeons before rendering treatment. We respect our patient's preferences and urge patients to follow their surgeon's directives, while taking into consideration all criteria and needs.
If you need dental care and are unsure if you need antibiotic prophylaxis, we are available to answer any questions you have.